How to Use Thinning Scissors on Dog Grooming?
Part 3: Thinner Scissors
What Are Pet Thinning Scissors?
Thinner scissors, also known as thinning or blending shears, are commonly used in dog grooming for various purposes. They are specialized scissors with notched or serrated blades that help remove bulk and blend the hair without creating harsh lines.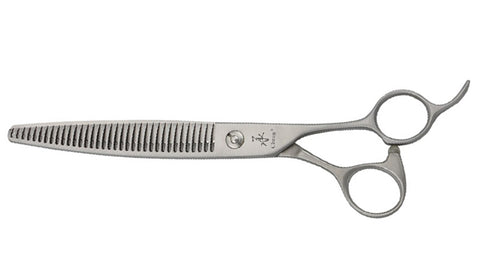 How to use thinner scissors?
Here are some specific uses of thinner scissors in dog grooming:
Blending and feathering: Thinning scissors are used to blend different lengths of hair to create a smooth, natural transition. They help remove excess bulk and create a more even appearance, especially in areas with longer and shorter hair, such as the legs or body.

Thinning out thick coats: Dogs with thick or dense fur, such as double-coated breeds, may require thinning to reduce bulk and prevent matting. Thinning scissors are used to selectively remove some hair without cutting it to the base, resulting in a thinner coat that is easier to manage.
Texturizing and shaping: Thinning scissors can be used to add texture and shape to the dog's coat. They are particularly useful for creating a natural-looking finish on breeds with wiry or curly hair, allowing the groomer to remove excess density and shape the coat to achieve the desired look.
Blending clipper lines: When using clippers during grooming, sometimes the resulting cut lines can appear too distinct or abrupt. Thinning scissors help blend those lines by gently removing hair along the edges, creating a smoother transition between clipped and unclipped areas.
It's important to note that thinner scissors should be used with care and skill, as excessive thinning can result in an uneven or choppy appearance.