How To Choose Hair Thinning Scissors?
What are Hair Thinning Shears?
Thinning scissors have serrated cutting edges that have one blade with teeth and one blade without. With thinning scissors, you can blend sections and soften lines, relieve some of this weight, and avoid root bursting when thinning the end of the hair.
How to Choose Different Types of Hair Thinning Shears?
There are three different types of thinning shears:  chunking, finishing, and texturizing. They are all similar but some are better at certain things than others. It depends on the size of the teeth and their number.  If you are cutting thick hair, then a pair of scissors with fewer teeth would remove the weight more quickly. When working on finer hair or when you want to add that gorgeous texture, scissors with more teeth would be best suited for the job.
Here are two of the most popular thinning scissors recommended for you in 2023.
1: Cheng's AAD-616SW 6.0 Inch 16 Teeth (Cutting Ratio: About 35-40%)
Special antler teeth with grooves, helping hair go out more smoothly
Efficiently blending and thinning the hair, especially men's hair
Help trim in a precise ratio and soften the sideburns or the hair in the corner evenly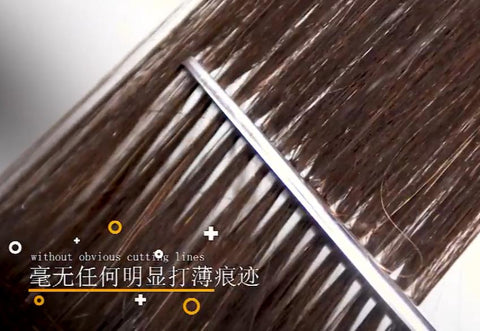 2: Cheng's VBA-627TW 6.0 Inch 27 Teeth (Cutting Ratio: About 10-15%)
With unique micro grooves on tooth tip for precise cutting ratio
Micro bevel grooves on tooth tip can help to get a very precise cutting ratio, the cutting ratio will not be reduced even when the scissors become blunt.
Mirror polished gap between teeth can let the hair go through more smoothly
Cutting ratio means the ratio of hair you remove, depending on the number of teeth and shape of the comb blade. It differs according to different tooth styles, tooth widths, tooth gaps, the sharpness of the edge, cutting angle, etc. Thinning scissors of the same size, and same tooth style, but different tooth widths or gaps will have different cutting ratios. Thinning scissors of the same size and same tooth numbers but of different tooth styles may have different cutting ratios as well.
Different people have different cutting habits, so for a pair of scissors, different stylists may get different cutting ratios.
Cheng Scissors provide you with the best quality thinning & texturizing hair scissors that allow you to create textured looks that suit a number of today's most popular hairstyles.