How to Use Dog Grooming Scissors?
Part 1: Straight Scissors
Straight scissors are commonly used in dog grooming for various purposes. Here are some of the typical uses of straight scissors:
Trimming Fur: Straight scissors are used to trim and shape the dog's coat. They are particularly effective for removing excess hair and creating clean lines. They can be used to trim the dogs' body, legs, and tail.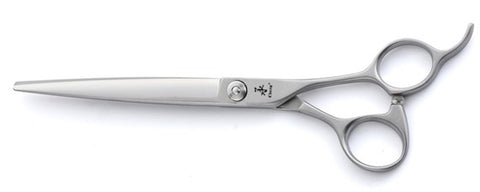 Finishing Touches: Straight scissors are used for adding the finishing touches to the groomed coat. They help in blending and smoothing the cut edges, ensuring a polished and neat appearance.
Facial Grooming: These scissors are useful for trimming the fur around the dog's face, including the ears, muzzle, and eyebrows. They help in achieving a well-groomed and balanced facial appearance.
Detailing Work: Straight scissors are handy for performing detailed work in specific areas, such as removing hair between the paw pads, tidying up around the sanitary areas, or addressing any uneven patches.
Scissor-Over-Comb Technique: In some cases, groomers use straight scissors in combination with combing techniques to achieve a specific desired length or texture. This technique involves holding a small section of hair with a comb while trimming the hair with scissors to create a blended and even look.
It's important to note that using the right type of scissors and maintaining them properly is crucial for achieving professional and safe grooming results. Professional dog groomers often have a range of different scissors for specific tasks and coat types.